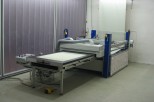 Technical data
CIMA HORIZONT M2
CIMA HORIZONT M3
Print format
1000 x 1600 mm
1500 x 2200 mm
Plate size
1200 x 1900 mm
1700 x 2450 mm
Max. frame size
1500 x 2100 mm
2000 x 3050 mm
Height of printed material
8 mm
16 mm
Sizes:
Width
1700 mm
2300 mm
Length
4865 mm
6320 mm
Height
1450 mm
1500 mm
Weight
650 kg
850 kg
Register pins
note: CIMA-Zlin produces CIMA HORIZONT M2 in other sizes,
following specific demands by the customers.
Let us introduce you a model of a screen-printing semiautomatic machine with an integrated UV-bridge designed for printing on large-scale materials.
In reaction to much more frequent usage of UV colours in screen-printing workshops, we in CIMA Zlin Company have developed the CIMA HORIZONT M2 which uses an integrated UV-bridge. Due to the implementation of the new UV-bridge technology we are able to satisfy all the needs of the market at present - e.g. CIMA HORIZONT M2 minimalizes the time interval between printing and drying and markedly reduces the time of exposure of the printed areas to dust particles, which highly improves the quality of the print; also the subsequent manipulation with the printed material becomes much more flexible. With CIMA HORIZONT M2 don't need our customers longer a conveyer, which would only increase the printing costs. With CIMA HORIZONT M2 it is possible to print with accuracy on heavy and large materials, such as glass or tin boards and desks. Drying process takes place right on the printing desk.
Price on request:
Please, fill in this form. We will send you a price offer as soon as possible.
* field is required